---
Mapping
We can geocode customers/prospects by zip code or distributors/dealers by county and print out maps showing the locations anywhere in the United States. These can be very useful to visualize opportunities and to manage territories. Additionally, we can put all these records into database tables and print them in a variety of report formats. We can do the mapping for you or we can set it up at your location and train your employees on how to do it. We use Microsoft MapPoint or ESRI's ATLAS GIS programs.
Who can benefit from mapping ?

Territory managers
National sales managers
Distributor/dealer managers
Companies with customers all over the US
Sales force managers
Companies that want to see where the customers are

What are the benefits from mapping ?

Visualize territories
Computerize assigned territories
Reduce errors associated with territories
Improved reports
Optimize sales territories
Improve coverage planning
Identify best location for coverage
Here is a sample of what a mapped national sales territory might look like: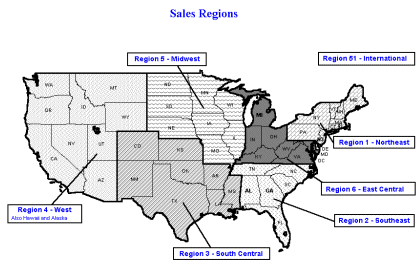 Here is a sample of customer prospects shown as points in a county map: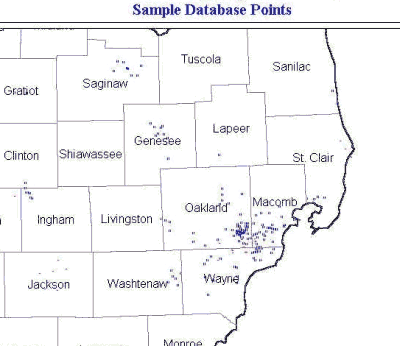 The information can be mapped as an area based on counties or as a series of points based on zip codes as shown in the above examples. The basis for the maps can be a database table which can be made into reports as shown below.
| | |
| --- | --- |
| Here is a sample report of territories based on counties: | Here is a sample report of a dealer with his territory shown by state and county: |
| | |
We can take your rough data or buy records for you and map the data or import the data into a database and produce reports to suit your needs. Please call our references: Paul Kieta at Carboloy at 1-810-497-5000 or call John Marcaccio at Openings at 1-248-335-7380 to get more information about our service.
---
Mitchell Selling Dynamics, Inc.
Since 1990

1360 Puritan Avenue, Birmingham, Michigan 48009, USA
Phone: 248-644-8092
E-Mail: info@mitchellsell.com

© Copyright 1996-2014 Mitchell Selling Dynamics Inc. www.mitchellsell.com